Tickets to Entrance // Depot* // Camping* // VIP Camping* // Pop up cottage* // Parking* // Stand*
Ticket entrance
The tickets are not sent. Pick-up on arrival at Camping Office, or in the Green ticket booth at the large entrance on Saturday and Sunday.

Welcome Office Groröd, Stureparksvägen 10 // Friday and Saturday 7.00-19.00, Sunday 07-14
Camping office Groröd, Stureparksvägen 10 // Friday & Saturday 7.00-22.00
Ticket booth Main entrance Glimminge Motorstadion // Saturday-Sunday 7.00-16.00
Depending on how you download your entrance tickets and camping certificates, they come in different formats. If you use an iOS device, what you bought ends up in the Passbook. For other smartphones there will be one or more mobile tickets. With a computer, it becomes a PDF document to print.
Tickets are divided by
Adult: from 17 years
Youth: 8-16 years
Children: 4-7 years
*Entrance ticket is purchased separately.
All information about tickets >>>
ATTENTION! Mopeds, kick bikes, electric scooters, pit bikes and bicycle are prohibited in the entire area inside the railway.
CAMPING – Stay near the course!
Camping is an important part of the entire WC weekend! There are three options to choose from: Camping, VIP Camping and Pop-up cabin.
At the VIP Camping and the Pop-up cabin, you have access to electricity and better showers.
Map, parking and transfer
There is a FREE bus transfer from the city center!
The bus runs all day between Kampenhof bus station / Museiparken and Glimmingen;
Saturday 8am – 7pm
Sunday 8.30am – 7pm
Parking at Glimminge Motorstadion
Our car park is located close to the track behind the audience mountain, 150 meters from the entrance.
Book here >>
SEK 100/day and car, limited number of places. Your parking ticket will be exchanged for a sticker upon arrival at the parking entrance.
Accessibility adapted parking
Accessible parking is located 75 meters before the main entrance. A parking permit for the disabled needs to be presented.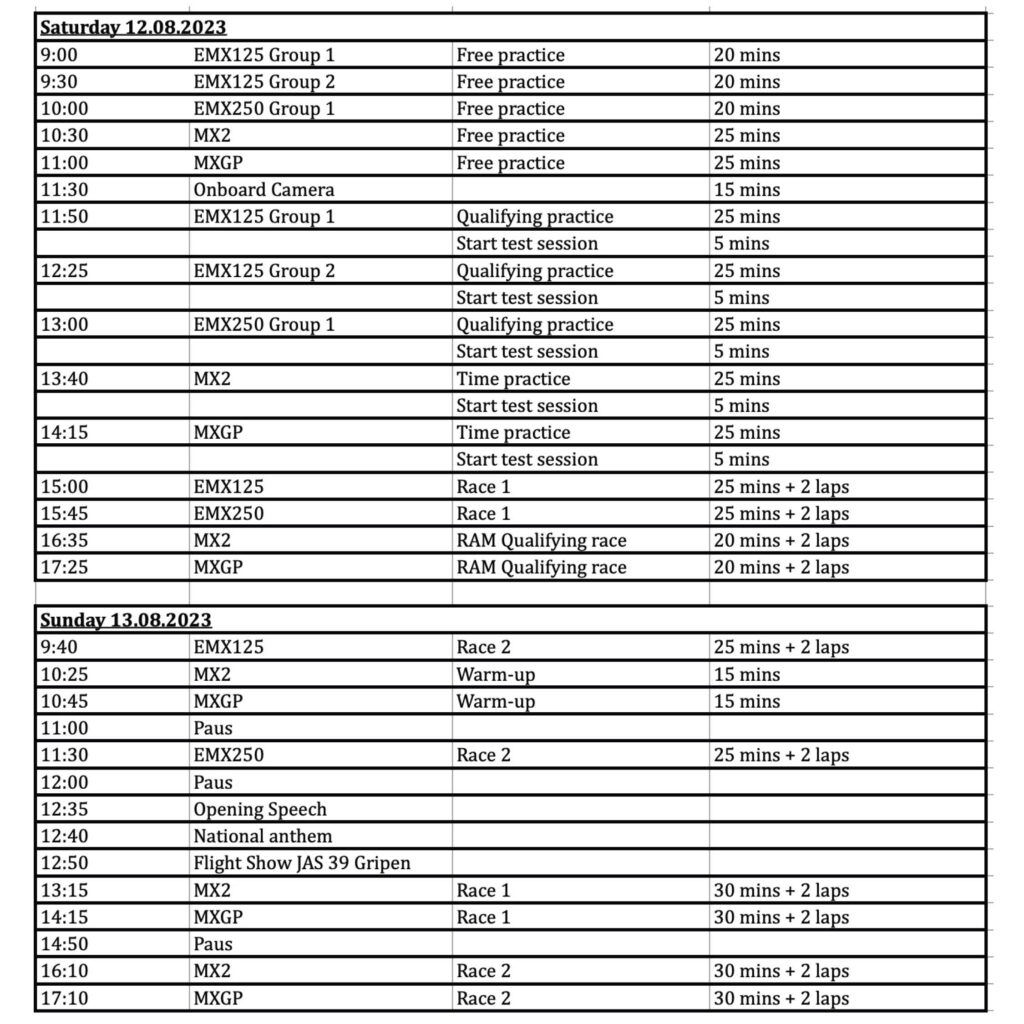 Food and drink in the BMK tent
Take the opportunity to fill up on energy at the BMK food and beer tent, – perfect location next to the track and the exhibitor area. Breakfast, buffet (SEK 150), hamburgers, sausages and coffee with buns are served here. Wine and beer are also served.
Opening hours Friday 12-19, Saturday 7-19, Sunday 7-18.
Around the course there are kiosks with sausages and bread, hamburgers, drinks etc.
Payment by card, (not all places) swish, cash.
25 year anniversary
Join the WC Motocross party with Rydell & Quick when MXGP Uddevalla celebrates its 25th anniversary!
Full crowd on the plateau Glimminge Motorstadion with Show & DJ Friday and Saturday at 20:01.

The party platform with great view, is of course open throughout the weekend: Friday  at 12-01 // Saturday  at 11-01 // Sunday at 11-18
From 18 years old. Organizer Konport
Pre-party at Torp shopping center Friday August 11 at 5-7 PM!
The WC party starts at Torp FRIDAY where we meet the world elite in motocross. Perfect atmosphere with interviews and autograph writing. The WC speakers are on site and running a talk show, shortly after five some of our Nordic drivers are interviewed, including: Alvin Östlund, Albin Gerhardsson, Isak Gifting, Arvid Lüning, Kevin Horgmo, Freddie Bartlett and Casper Lindmark. CEC has merchandise sales, the E-mini Academy shows the youngest motocross riders their electric mini motocross bikes. There will be a competition and more.
Air show
The spectacular air show of the JAS 39 Gripen returns – watch out on Sunday at 12.50.
E-mini Academy test drive
The E-mini Academy allows the youngest motocross riders to test drive electric mini motocross bikes made to suit both beginners who want to learn the basics of motocross and more seasoned racing riders. Choose between test driving brands KTM, Husqvarna Motorcycles and GASGAS. Riding equipment is available to borrow on site!
Location: From the entrance, turn right before the course, the test drive is at the corner of the course/camping site.
Test drives only take place with a guardian present or in the company of another adult.
Saturday 10.00 AM – 12.00 AM and 2.30 PM – 4 PM
Sunday: 9.45AM – 11.15AM
Uddevalla GP programs are sold at the entrance and at the kiosks
Price 50 SEK, paid with cash or swish.